Magnolia Landscaping Stones
All American Stone and Turf offers a wide variety of landscaping stones. We get a majority of our stones from Oklahoma and use our own truck to deliver them to our store location. Owning our own trucks allows us to keep third party costs down and deliver a quality product for a great price. Check out our varieties of stones below. If you have any questions, do not hesitate to contact us. 
Moss Rock
Mossrock
Moss Rock is a sandstone that comes in a variety of colors and sizes.  It is primarily used for bordering flower beds, and also can be used for a natural stone retaining wall. We have Texas Mossrock, Oklahoma Mossrock as well as patio stones and boulders.
Chopped Stone
Chopped Stone
For an elegant touch to your outdoor spaces, All American offers beautiful saw-cut and chopped landscaping stones in many different shapes, texture and sizes. Whether you're creating a garden path or building a retaining wall, our experienced staff will help you determine what materials will fit your need and meet your expectations. 
Flagstone
Flagstone
Flagstone is a very popular choice for landscape paving, we have searched long and hard to provide the best quality stone to stock in our yard. Our flagstones are separated and then palatalized into different categories depending on size and thickness. The larger pieces are standing up on the pallets, also know as "Flagstone Select" and the smaller pieces we lay down onto the pallet and we refer to those as our "Patio Flagstone."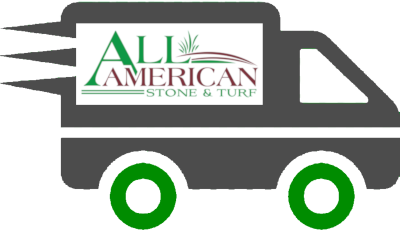 We Deliver - Schedule Now!
Need landscaping stones delivered to your project? We can handle that! We deliver landscaping stones all across Houston, Texas. Whether your project is around the yard or if its a giant commercial project, we have trucks ready to deliver your chosen landscaping stones right to your project.
You have a couple of choices. Most bed edging is a flat moss rock stacker. These stones are relatively flat with at least one flat face for the visible edge of your bed. They are a random shape and size on their other dimensions which gives them a unique look. Chop stone comes in a dimension such as 4"x4" or 4"x6" with random lengths. These are a more formal look and can be stacked easily. There are also a couple of manufactured wall options such as the Belgard Weston Stone or Melville Wall.
We have several unique boulders ranging from our featured 10,500 pound Onyx feature piece down to mossy Texas boulders that are unique for their mossy growth. We also have unique blue/grey "deep ocean" boulders.
Size your landscape boulders based on the features around them. If you are using them to add interest to a wall or bed they should not be more than a few inches above the wall. If the boulder is the feature you can consider looking at large feature stones. Keep in mind that stone gets heavy pretty quick. Make sure you have some friends to help you move the stone. If you pick a feature size boulder we can place it when we deliver for a small fee.
In the manufactured line you have the Weston Wall Modular stone which is incredibly simple to do. If you want something more intricate you would want to look at building your structure out of CMU block and facing it with either a thin veneer stone or a patio size stone.
We only return unopened pallets of stone. There is a 25% restock fee for returned stone. Choose wisely!